Barcelona is globally known for its architecture and cultural offer, but its gastronomic offer doesn't stay behind. And we want to help you make the most of it, so here we share with you a tour through the best places to have a meal or a drink at any time of the day in one of the most representative districts of the city: L'Eixample.
And in case you are an Aticcoliver in L'Eixample, get ready to take note of this, because a lot of these places are at walking distance from your apartment, and here we tell you which ones (honestly it could be all of them, but this is so you don't blame us for making you walk for more than 1 km).
A brunch to boost your morning
Brunch has become one of the most popular meals of the weekend, because who hasn't woken up on a Sunday after partying the night before starving and with no intention to cook whatsoever, just to realize that it's too late to go out for breakfast and still too early for lunch. Business opportunity? Totally. And here are some of the restaurants that have embraced it to give a solution to the people who look for a powerful breakfast at any time of the day.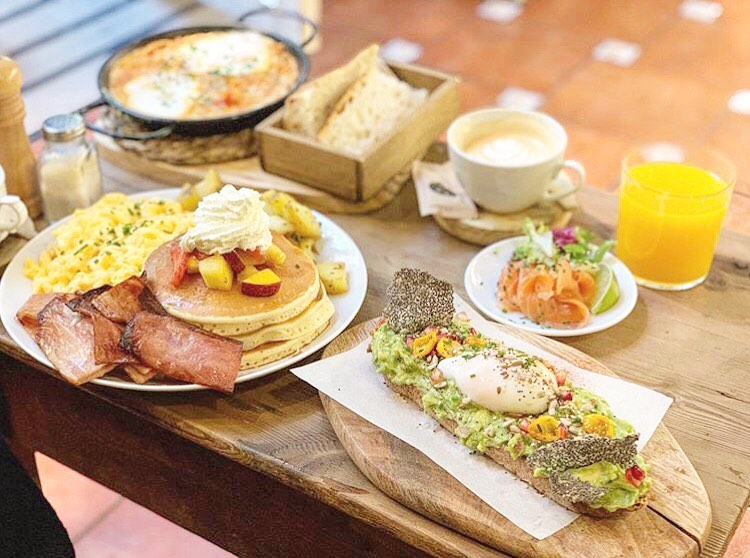 Billy Brunch
If you like to enjoy a walk around L'Eixample on the weekends, you probably have already seen the famous chicken from Billy Brunch, the restaurant known for its "country breakfasts" that has also become a favorite for brunch lovers.
And if you do have seen it, you should also be familiar with the long lines that are always outside this place. Because truth be told, their dishes and their distinctive rustic style are no secret, and in order to enjoy them you need to wait in line with all the other foodies. But don't worry, it will be worth your while.
 📍 Muntaner 64
🚶 Casanova 103 and Sepúlveda 164
📍 Bailèn 115
🚶 Passeig de Sant Joan 126, Provença 318 and Valencia 300
OMA Bistró
If this whole new "late breakfast" concept is new for you but you don't want to miss the trend, OMA Bistró is your safe bet. Here you will find the classic dishes that you can enjoy without a rush in a place that puts together art, color and industrial decorations (just what you are thinking, that hipster style that totally fits brunch).
 📍 Consell de Cent 227
🚶 Casanova 103 and Sepúlveda 164
Ugot
A lovely bruncherie that will take you to another time. Ugot means "cake" in Hebrew, which is a reference to the Israeli origin of its creator, Ada Nachson, and translates into an offer of the most appetizing homemade cakes, it'll be love at first sight. And if you are the kind of person that likes to try new dishes at every chance, you can't miss the shakshuka, a dish made with egg and vegetables that you have to try.
 📍 Viladomat 138
🚶 Casanova 103, Sepúlveda 164 and Calabria 257
La Desayuneria
If you are looking for a hearty meal and you are over with avocado toasts and benedict eggs, La Desayuneria has what you need. Its menu is inspired by the typical breakfasts of the United States, with a wide variety of juices, sandwiches, pancakes, eggs, and many other dishes that will satisfy any craving.
 📍 Comte Borrell 75
🚶 Sepúlveda 164
📍 Comte d'Urgell 260
🚶Muntaner 175 and Calabria 257
Granja Petitbo
A cozy restaurant that offers homemade dishes cooked with quality products, while surrounding its customers with their distinctive vintage aesthetic. So if you are the type of person that can't start eating without taking a picture of the dish in front of you, in Granja Petitbo you will also find the perfect setting for that brunch pic you are eager to post on Instagram.
 📍 Passeig de Sant Joan 82
🚶 Passeig de Sant Joan 126, Provença 318 and Valencia 300
The main meal of the day
If you think of yourself as a more traditional person that only eats three meals a day, and you like to keep the best part for lunch time, here you go.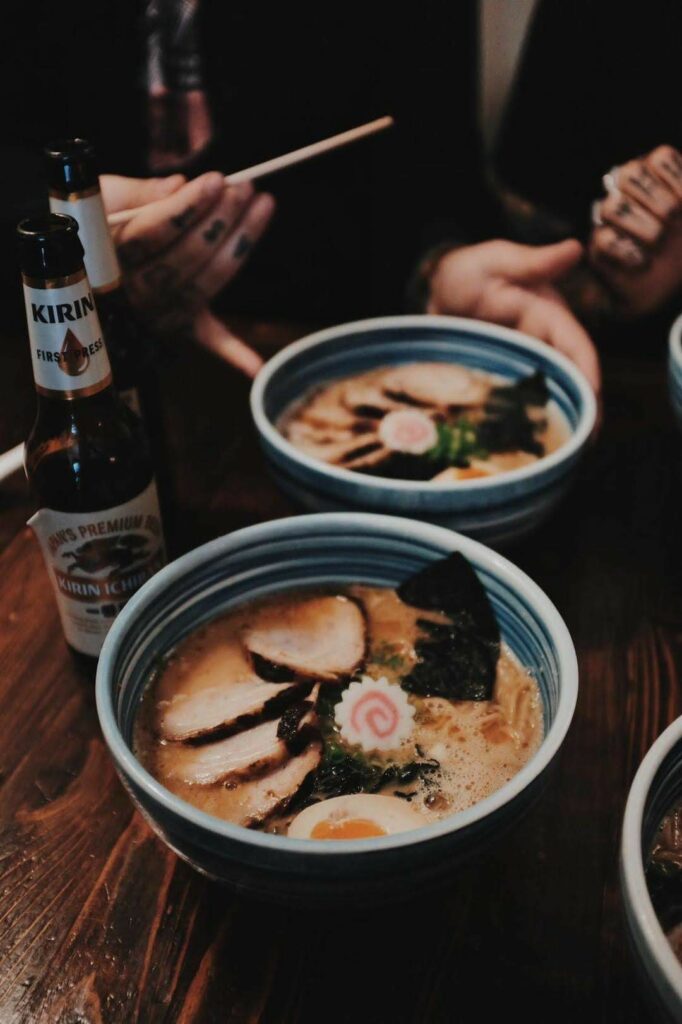 Ramen-Ya Hiro
If you like anime, you're probably familiar with this typical Japanese dish that illustrators represent in such a way that leaves you starving while watching tv. But you don't need to be into anime, because who doesn't fancy some comforting noodles with broth that you can compliment with the ingredients you prefer, and Ramen-Ya Hiro is one of the most authentics you will find in Barcelona to taste it.
And if you are thinking this is a really good meal for the winter, you're totally right, but in this case you don't have to settle with that, because here you will find a cold ramen option for you to enjoy at any season.
 📍 Girona 164
🚶Passeig de Sant Joan 126, Provença 318 and Valencia 300
O'Retorno
Get ready to travel right into Galicia and enjoy its most traditional flavors in O'Retorno. Seafood is their specialty; octopus, prawns, clams, mussels, fish… But you will also find a variety of typical meat dishes, like Galician style boiled ham and churrasco. Make sure you get there with an appetite because their portions are pretty generous.
 📍 Comte d'Urgell 168
🚶 Casanova 103, Calabria 257 and Muntaner 175
Zabú
Zabú is home of reinvented sushi. Their recipes have a mix of Asian and tropical flavors that give this traditional Japanese dish a unique and exotic touch. Plus, in its menu you can find other traditional dishes like yakisoba or nigiris, and some very tropical ones like poke bowls that you can customize to your liking.
 📍 Aribau 159
🚶Muntaner 175 and Casanova 103
La Patsa Lab
Whenever you feel like going out to eat but you don't know where to go, or when you just can't agree with who you are eating with on what to eat, Italian is the solution thanks to its wide variety of dishes for every taste, and La Patsa Lab definitely has to be on your list.
Espedito Brunetto, the creator of this pasta laboratory, put together his medicine knowledge and his passion for gastronomy to develop recipes that get the most out of the ingredients on every dish. So you will not only feel like you are eating directly in Italy, but you will also know it's a healthy meal.
 📍 Casanova 94
🚶Muntaner 175, Casanova 103 and Sepúlveda 164
La Flauta
Ok, international cuisine is great, but we needed a good recommendation for the typical Spanish tapas and montaditos, and in La Flauta you have it all. It doesn't matter if you fancy an iberian ham sandwich, some broken eggs, a garlic shrimp tapa, or a tortilla one, here you will find what you are looking for.
 📍 Aribau 23
🚶 Sepúlveda 164 and Casanova 103
📍 Rambla de Catalunya 91
🚶Valencia 300 and Provença 318
Beer, tapas and a great time for sure
If it was possible to eat with your eyes, by now you would already be satisfied. But since it's not, we will continue to feed only your craving as we go forward with this gastronomic tour. And now we've arrived at that particular moment in the afternoon when you feel like you need a beer but you're also 'kind of hungry', the tapas moment.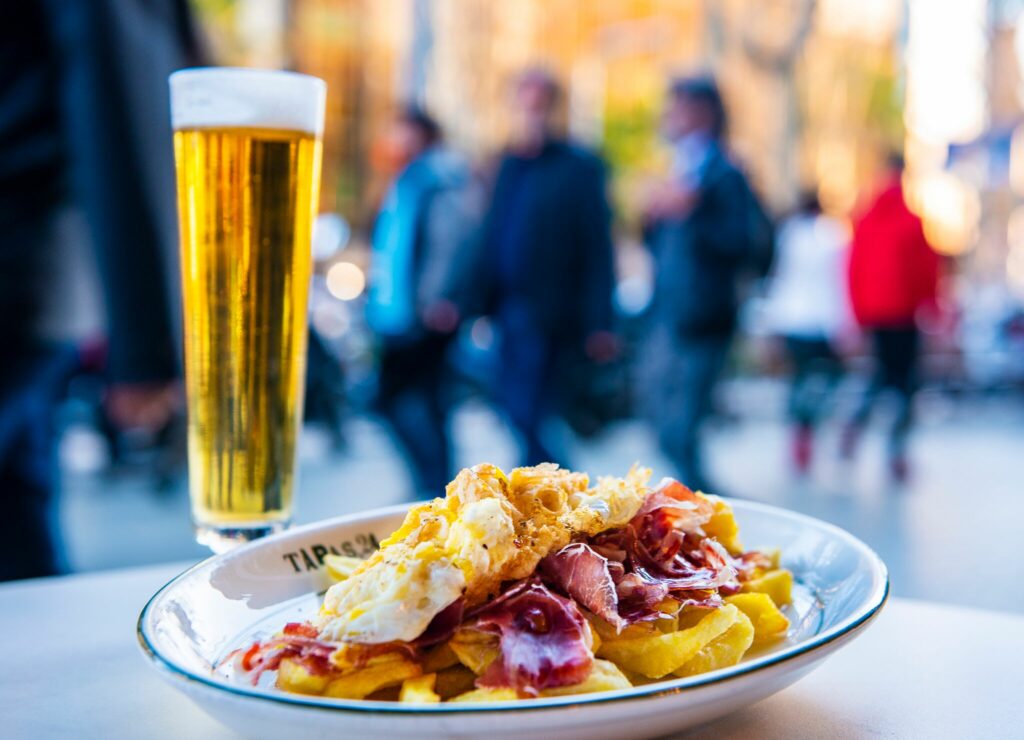 Tapas 24
This bar is the right choice for all those foodies that, more than the typical tapas, are looking for a culinary experience, because in Tapas 24 each dish carries the special touch of the Michelin star chef Carles Abellán. Classical tapas with a gourmet hint? This is something you can't miss.
 📍 Diputació 269
🚶Valencia 300
📍 Diagonal 520
🚶Muntaner 175
Senyor Vermut
Going out for tapas in Barcelona most of the times means having patatas bravas, and to have some GOOD ones, Senyor Vermut is one of the best options you will find in the city (not according to me, but to all the rankings of "best bravas in Barcelona" that I read before writing this).
Plus, here you can find other classic tapas that you can enjoy with a glass of wine, and you definitely have to try a vermouth from their wide selection, that if you haven't realized from their name, is their specialty.
 📍 Provença 85
🚶 Casanova 103 and Calabria 257
Alice Garden
If you would like to spend the afternoon someplace different from the typical tapas bar, Alice Garden is the place you are looking for. A themed coffee shop that has an inner garden that will make you feel like you are leaving the city to enter a fantasy world. Plus, this place has a varied menu from which you can choose to enjoy a piece of cake with some coffee or a tapa with a fresh beer, you get to choose the path you want your afternoon to follow.
 📍 Pau Claris 92
🚶 Ronda Sant Pere 50 and Valencia 300
Bar Calders
If you liked the idea of spending the afternoon on a terrace but you rather skip the coffee and go right into beer and tapas, your place is at Bar Calders. A representative bar from the San Antoni neighborhood with a wide offer of dishes to share, vermouths and beer to enjoy in a terrace you won't want to leave.
And if you are a literature nerd, pay attention to all the details in the place that pay tribute to the writer Pere Calders, besides the name obviously.
 📍 Parlament 25
🚶 Sepúlveda 164
Fábrica Moritz
We can't stop talking about food and beer (mostly because we know what you like), so to wrap up the tapas section and make room for drinks and cocktails, we introduce you to this bar where, as you can imagine, a good beer is guaranteed. And not just that, but in this old factory you can also find a wide tapas variety with international flavors created by the Michelin star chef, Jordi Vilà.
Wait, there's more, because if you are a true beer lover, you'll love to know that in Fábrica Moritz you can have unpasteurized tap beer that comes directly from the brewery. So there you go, if this doesn't make you book right away is because you don't actually like beer.
 📍 Ronda de Sant Antoni 41
🚶Sepúlveda 164
A drink with a good vibe to end up the night
How about a drink out of the ordinary to end the night on a high note? Whether you are a beer enthusiast or a cocktail lover, I bet here you will find the perfect spot.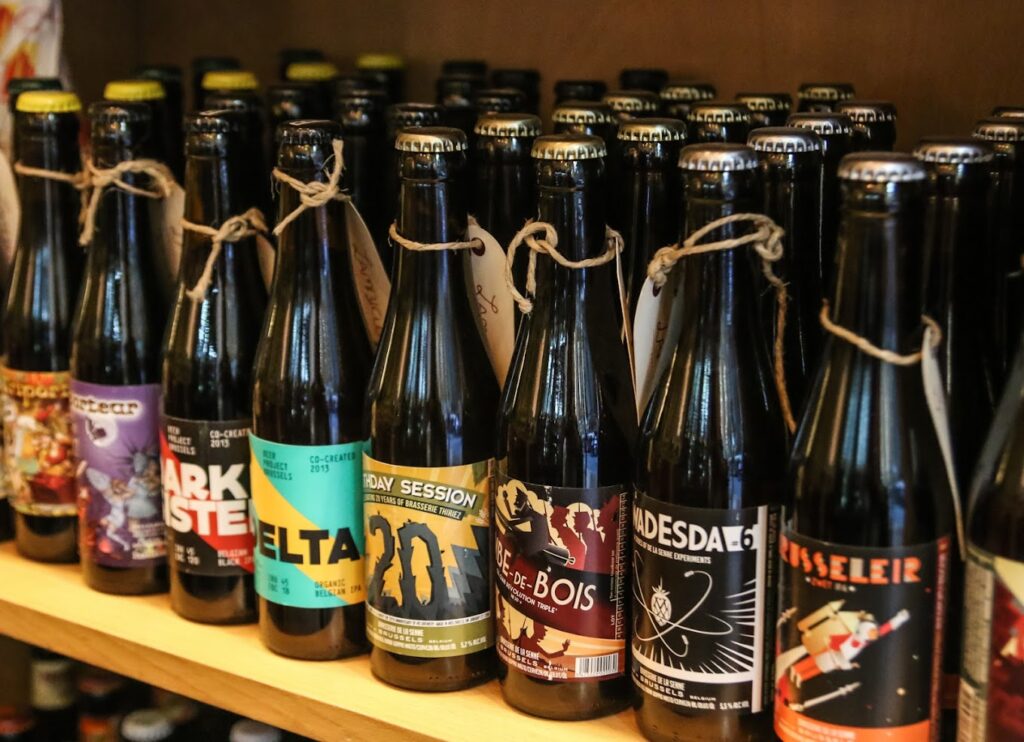 Lambicus
I know we've been on and on about beer in this article, and I promise this is the last one, and a very special one, dedicated to the true beer lovers out there, those who know there's none like the Belgian. Because in Lambicus you can find the widest variety in the city. 
If you are not an expert you don't have to worry, because this bar offers different tastings where you can learn which is the style that fits you better. And if you want more, the place has a store with a selection of more than 400 beers where you can choose your favorites and take them home.
I have to say, even if you don't think of yourself as a beer lover, here you might change your mind.
 📍 Tamarit 107
🚶Casanova 103 and Sepúlveda 164
Solange
Moving on to cocktails… If you think of having a cocktail and what comes to your mind is a sophisticated drink and a vibe to match it, nothing fits better with that description than Solange. A luxury cocktail bar with a decoration that will blow your mind and make you feel as if you were part of one of those classic bar scenes in a James Bond movie. 
 📍 Aribau 143
🚶Muntaner 175 and Casanova 103
Les Gens Que J'Aime
Travel back in time to the 50's and enter the bohemian and modernist atmosphere of Les Gens Que J'Aime. A bar that hides in the heart of L'Eixample where you will find all sorts of cocktails to enjoy without fuss and have a good time. And I mean, it is not for nothing this place has been open for more than 50 years.
 📍 Valencia 286
🚶Valencia 300 and Provença 318
Sips
Sips is one of the best cocktail bars, not just in Barcelona, but in the world. And here we don't say anything without proof, because this bar that was created by two bartenders renowned worldwide, Marc Álvarez and Simone Caporale, was recognized with the third spot in The World's 50 Best Bars ranking in 2022.
So if you fancy a cocktail that is spectacular in every way, this is the place.
 📍 Muntaner 108
🚶Casanova 103 and Muntaner 175
Tandem
Tandem is a cocktail classic in Barcelona. An elegant space with vintage style that offers an intimate atmosphere to calmly enjoy a good cocktail within one of the busiest areas of the city.
 📍 Aribau 86
🚶Casanova 103 and Valencia 300
So there you have it, at least for a while you don't have an excuse to go blank when someone asks you for a good place to have a bite or a drink around L'Eixample.*
*Disclaimer: I have to place on record that we don't take responsibility for any extra pounds that this article may cause.